Vax S5 Kitchen and Bathroom Master Compact Steam Cleaner
S5
How do I clear a blockage?
Clearing a blockage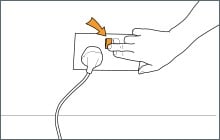 Turn off and allow time to thoroughly cool down
Remove any blockages by inserting a small thin object (such as a paperclip) into the nozzle
Specifications
Water tank capacity
1.2 litres
Solution tank capacity
N/A
Guarantee
2 year guarantee
Other tools included
Hose and handle, Scraper tool, Grout brush, Detailer tool, Conc nozzle, Upholstery/window tool, Small plastic brush, Large plastic brush, Floor head, 3px extension tube, Funnel, Measuring jug, Upholstery tool cloth x2, Floor head cloth
Part number
1-1-130700-00
Multifunctional with 16 piece accessory kit
Compact and lightweight
Uses water only
Adjustable steam dial
Multifunctional with 16 piece accessory kit
The Vax S5 Kitchen and Bathroom Master comes fully equipped with 16 tools and accessories allowing you to achieve a total home clean for spotless results. It features tools to clean windows, mirrors, ovens, taps, upholstery, grout, tiles and much more.
Compact and lightweight
This machine is small and versatile weighing only 3.4kg so you can easily move from room to room and up and down stairs with ease.
Uses water only
The Vax S5 Kitchen and Bathroom Master only uses water to kill 99.9% of bacteria with the powerful steam yet is still environmentally friendly.
Adjustable steam dial
A dial on the machine allows you to adjust the steam pressure depending on what you're cleaning. You can clean at both minimum and maximum pressures for your desired results.