Vax Mach 8 Upright Vacuum Cleaner
U88-M8-B
Troubleshooting
About This Machine
Specifications
Suitable for hard floors
No
Guarantee
2 year guarantee
Other tools included
2-in-1 tool crevice and dusting brush
Part number
1-1-131658-00
Energy Efficiency Overall Rating
No
The Vax Mach 8 Upright Vacuum Cleaner is a multi-cyclonic upright which provides constant and powerful suction, for brilliant cleaning results, leaving your home looking spotless every time. Weighing just 5.6kg, the Mach 8 is also lightweight, so it is easy to lift and carry around your home and upstairs.
The Mach 8 is perfect for allergy sufferers, as the inbuilt HEPA media filtration system helps to filter out fine dust particles, allergens and pollen, for a healthier home environment.
Also included is a 2-in-1 crevice tool and a dusting brush, to make cleaner into the smaller of spaces effortless. Additional tools and spare parts are available for purchase from the Vax official website. A 2 year guarantee is also included for complete piece of mind.
Spares
Maintenance
How do I access the brushbar?
Accessing the belt and brushbar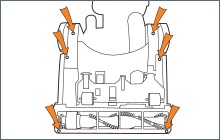 Remove the 6 screws underneath the machine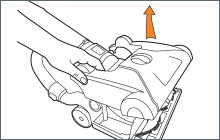 Turn the machine over, remove the top cover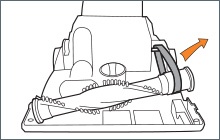 Lift the brushbar to remove
How do I clean the dirt container?
Emptying and cleaning the dirt container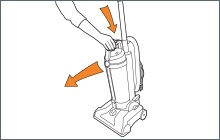 Remove the dirt container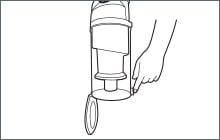 Release dirt from the dirt container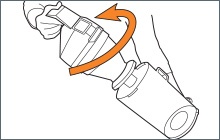 Remove the dust separator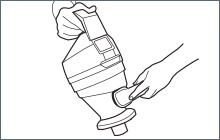 Tap the separator against the side of a bin and use a soft brush to remove any remaining debris
How do I clean the post-motor filter?
Cleaning the post-motor filter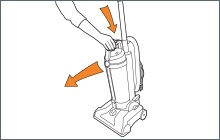 Remove the dirt container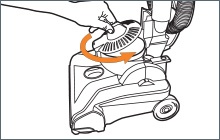 Twist to release the filter and cover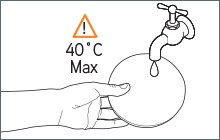 Rinse the filter under the tap (no detergent)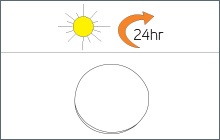 Allow 24 hours to air dry